Source of Minerals and Antioxidants
Snapshot
Organic Certified
Natural - Not Alcalinized
Gluten free
Vegan
Kosher Certified
Fairly Traded
GMO Free
Botanical Name: Theobroma Cacao
Single organic Criollo variety from Amazon region in Peru
Cultivated in its original Mesoamerican habitat using sustainable farming practices.
Cacao is rich in essential minerals, including magnesium, calcium, iron, zinc, potassium, and phosphorus. This ancient super-food is rich in antioxidants as well; Cacao Beans contain 10,000 milligrams (10 grams) per 100 grams of flavonol antioxidants. This is a whopping 10% antioxidant concentration level! This makes cacao one of the richest sources of antioxidants of any food.
You can buy Organic Cacao Powder through our online store. If you would like to buy wholesale, please contact us through our wholesale enquiry form.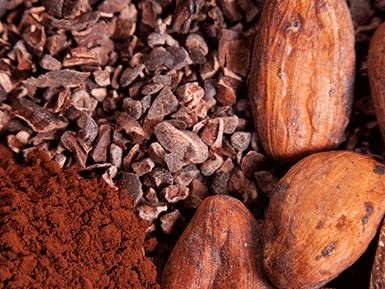 Cacao products are sourced from Peru. Several groups of organic farmers forming a cooperative cultivate the premium Theobroma Cacao in its native environment. These farmers have received training on how to cultivate the Cacao using only organic farming techniques without the use of pesticides or chemical fertilizers.
The beans are extracted from the inside of the Cacao fruit which contains both the beans (seeds) and a white pulp. The beans are separated from the pulp and left to ferment for 6-7 days. After fermentation, the beans are sun dried for 3-4 days..
The Cacao Beans are then husked, Cacao Nibs are now formed, and ground to produce Cacao Paste. During this process, part of the Cacao Paste is pressed to separate the Cacao Butter from what is now called the Cacao Cake. The Cake is then pulverized to become Cacao Powder - or pure Cocoa, rich in all the nutrients and aroma of the Theobroma Cacao - Food of the Gods.
| | Per Serve (2g) | Per 100g |
| --- | --- | --- |
| Energy | 24.6kJ | 1229kJ |
| Protein | 0.5g | 25g |
| Fat-total | 0.22g | 11g |
| - saturated | 0.12g | 6g |
| Carbohydrate | 1.1g | 55g |
| Sodium | 0mg | 27mg |
1
Is Cacao Powder the same as Cocoa Powder?
2
What is the orgin of the word Cacao?
3
What is the best storage condition?
"Best Raw Cacao!!!. I have tried over 10 different raw cacao powder all around the world! Only this cacao powder reach that point, when I could say, this is quality!!! As a raw chef, I use cacao for smoothies, desserts and of course for chocolates."
"Awsome to make chocolate with! I have a sweet tooth but I don't like to eat commercial chocolate. I make chocolate with this product using 5 tablespoons cacao, 5 tablespoons extra virgin coconut oil, and 5 tablespoons of sunflower seeds. It's the best chocolate and I eat half a block every day!"
"Delicious Cocoa! This is the best tasting cocoa for hot chocolate - rich and a bit fruity. Also great for cakes."
Packing Presentations
This product is available in the following packing presentations: