High-protein amazonic superfood
Snapshot
Organic Certified
Min 59% Protein Content
Gluten free
Raw
Vegan
Dairy Free
Low GI
GMO Free
Botanical Name: Plukenetia volubilis
Protein Rich Superfood Powder
Sacha Inchi is a small oilseed that is found inside the fruit of the Plukenetia Volubilis, a native plant to the Peruvian highlands. It is a shrub-like, measuring up to two metres in height, flourishing at great altitudes and rainy weather. It produces little star-shaped fruit capsules that turn from green to a darkish brown colour upon maturing.
In the inside, we find a few shells that are opened to obtain small seeds. These go through a sun drying to be ready to be eaten. Sacha Inchi can be consumed as an oil (cold pressed), as powder (extruded then ground), or simply in the nut form.
Sacha inchi has two mayor nutritional values: its high oleic quality and its elevated protein content: Omega 3, 6 and 9 are present in abundance, there is a low proportion of saturated fats and a near total composition of unsaturated fats. It is rich in vitamins A and E.
Protein is found in about 65% in sacha inchi powder. It contains both essential and non-essential amino acids and it is highly digestible.
You can buy Organic Sachi Inchi Powder in Australia through our online store. If you would like to buy wholesale, please contact us through our wholesale enquiry form.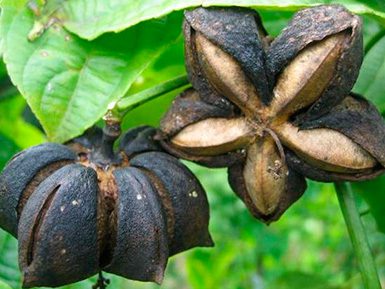 The fruit is picked from the tree, the shells are opened and the seeds are left to sundry. They are cold pressed to extract the oil, then the powder is obtained from the leftover cake through an extrusion.
| | Per Serve (10g) | Per 100g |
| --- | --- | --- |
| Energy | 168.6kJ | 1686.2kJ |
| Protein | 6.3g | 62.6g |
| Fat-total | 0.9g | 8.9g |
| - saturated | 0.1g | 0.8g |
| - cholesterol | 0g | 0g |
| Carbohydrate | 1.8g | 18.2g |
| - sugars | 0.5g | 5.5g |
| Dietary Fiber | 1.4g | 14.3g |
| Sodium | 0.4mg | 4.3mg |
| Calcium | 48.2mg | 482mg |
| Iron | 0.7mg | 7mg |
1 Is sacha inchi allergenic?
"Looking forward to seeing this product soon."
Packing Presentations
This product is available in the following packing presentations: