High-protein ancient superfood with a slight caramel flavour
Snapshot
Organic Certified
Cane Sugar - Free
Gluten Free
Dairy Free
Vegan
Raw
Low GI
GMO Free
Botanical Name: Prosopis Pallida
Pods from a majestic tree that grows in North Peru and Mexico
Mesquite can be found in the high desert plains of Peru and Mexico where the still winds and dry weather establish a stable atmosphere for the tree to thrive. The ancient superfood's history dates back to Mexico 6500 BC, where it was first harvested as an essential food and used as a currency to trade within Indigenous cultures.
Mesquite is a superfood high in protein, amino acids, fiber, inositol, and minerals such as iron, calcium, potassium, magnesium, zinc and iron. It contains vitamins A, B1, B2, B6, C, E, as well as folic acid.
Our raw organic Mesquite Powder is low in sugar but has a natural sweet, exotic flavour. Use as protein powder, or as a nutrient boost in energy drinks. Add nutrition value when baking cookies, cereals, and power bars.
You can buy Organic Mesquite Powder through our online store. If you would like to buy wholesale, please contact us through our wholesale enquiry form.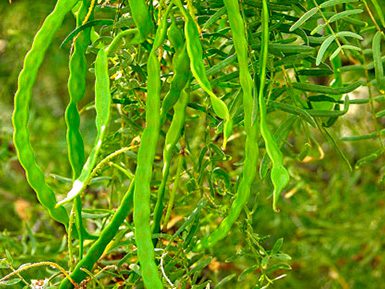 Due to its environment, the tree has adapted and developed a special mechanism to gather water and nutrients from deep within the earth. Mesquite powder is low in sugar but has a natural sweet exotic flavour.
Harvesting consists of the pods being picked when they are entirely ripe. They are then dried at a low temperature and milled into a fine powder.
| | Per Serve (10g) | Per 100g |
| --- | --- | --- |
| Energy | 159kJ | 1590kJ |
| Protein | 1.6g | 16g |
| Fat-total | 0.34g | 3.4g |
| - saturated | 0g | 0g |
| Carbohydrate | 8g | 80g |
| - sugars | 4.4g | 44g |
| Sodium | 0.5mg | 5mg |
1 Is Mesquite powder a raw food?
2 Can Mesquite powder be used in baking?
"Great Mesquite! the best I have had so far."
Packing Presentations
This product is available in the following packing presentations: