Energizing ancient superfood with aphrodisiac qualities
Snapshot
Organic Certified
Gluten Free
Dairy Free
Vegan
GMO Free
Botanical Name: Lepidium Meyenni Walp
Root of empowerment from the Incas
In the Andean Mountains of Bolivia and Peru resides a magnificent plant that has been used for thousands of years. Archaeological sites have discovered primitive cultivations of Maca dating back to 1600 B.C.E. Domesticated and prized by the Incas 2,000 years ago, Maca powder helps increase energy, stamina, balance and nurture the body. It is also well known to increase libido.
Any Maca Powder benefits? This ancient superfood is loaded with fibre, nutritious vitamins, amino acids, fatty acids, minerals, including vitamins B1, B2, B, C, D, E, potassium, iron, magnesium copper, selenium, phosphorous and calcium. Maca root contains nearly sixty phytochemicals including glucosinolates and macamides that promote optimal functioning of the hypothalamus and pituitary master glands.
Maca powder can be used in smoothies, in baked goods or added to hot and cold drinks. Maca is a sought-after ingredient in gluten-free baking by adding a delicious taste while contributing with all its nutritious qualities.
You can buy Organic Maca Powder through our online store. If you would like to buy wholesale, please contact us through our wholesale enquiry form.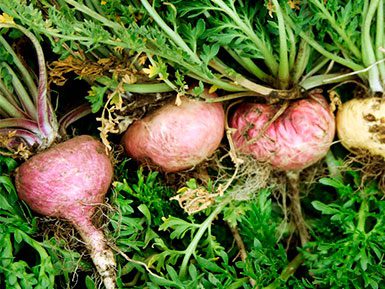 Maca harvest season is in May. The Maca root is unburied from the soil by hand and placed in large sacks where two persons shake-off the dirt and leave the root bulbs soil-free. Maca grows as a native plant in the high planes of Peru with freezing temperatures and high winds.
The root is then washed, peeled and placed in a low-temperature dehydrator. After the moisture is extracted, the maca is pulverized and packed.
| | Per Serve (5g) | 100g |
| --- | --- | --- |
| Energy | 70.5kJ | 1410kJ |
| Protein | 0.7g | 14g |
| Fat-total | <1g | <1g |
| - saturated | 0g | <1g |
| Carbohydrate | 3.5g | 70g |
| - sugars | 1.6g | 32g |
| Sodium | 2mg | 39mg |
2
Is Maca native to China?
3
What is the best way to store this product?
"Great superfood. Fresh product and great service, thank you Maretai."
Packing Presentations
This product is available in the following packing presentations: