Ground from dried, defatted coconut meat
Snapshot
Organic Certified
Raw
Gluten free
Vegan
Kosher Certified
Fairly Traded
GMO Free
Botanical Name: Cocos Nucifera
Ground from dried, defatted coconut meat
Our gluten-free Coconut Flour is obtained as a side product from the coconut oil extraction process. After the coconut meat is pressed out from the flesh, the remaining solids are grounded. The final product is a fine powder that has numerous gastronomical uses. Coconut Flour is high in fiber and low in digestible carbohydrates, it is commonly used in gluten-free recipes for baking goods. It is considered a superfood due to the wide array of nutritional benefits.
You can buy Organic Coconut Flour through our online store. If you would like to buy wholesale, please contact us through our wholesale enquiry form.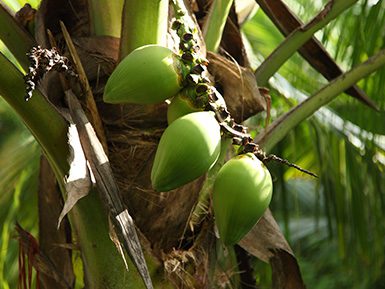 Coconut flour is obtained after extruding the
coconut oil
from the flesh and later grinding into a fine powder. This 100% pure flour can be used to bake high quality, gluten-free, low carbohydrate foods. This flour is high in fiber and expands during baking, often increasing in size by up to 50%. Coconut flour is also very low in carbohydrates and low GI (Glycaemic Index).
| | Per Serve (1 Tbsp, 15g) | Per 100g |
| --- | --- | --- |
| Energy | 213kJ | 1420kJ |
| Protein | 4g | 23.5g |
| Fat-total | 2g | 11.8g |
| - saturated | 1g | 6.91g |
| Carbohydrate | 7g | 44.7g |
| - sugars | 3g | 17.6g |
| Dietry Fiber | 7g | 47g |
| Sodium | 18mg | 117mg |
1 What is the Glycemic Index of Coconut Flour?
2 What is the carbohydrate content of coconut flour?
"Great coconut flour. Very fresh and great for baking. Thanks!"
Packing Presentations
This product is available in the following packing presentations: