Amazon berry with minerals and vitamin C boost
Snapshot
Organic Certified
Dairy Free
Gluten free
Low-GI
Vegan
Immune system boost
GMO Free
Botanical Name: Myrciaria Dubia
Vitamin C rich Amazon berry
Camu camu is native to the Amazon rainforest where the fruit has been used by local population for medicinal purposes. It is known to strengthen the immune system and increase energy levels. The fruits are roughly 3cm in diameter, with a pleasant acidic flavour similar to cherry and lemon. It has a very high content of antioxidants and vitamin C. Evidence suggests that it is far more effective, milligram for milligram than synthetic Vitamin C (ascorbic acid).
Camu camu has roughly 60 times more vitamin C per serving than an orange. It aids in gum health and other functions of the body. Other important nutrients present in Camu Camu are Valine, Leucine, Serine, essential amino acids used by the body to aid muscle repair, nervous system and cognitive functions. It also ha Flavonoids, Gallic Acid which has anti-fungal and anti-viral properties, and Ellagic Acid which has antioxidant properties.
You can buy Organic Camu Camu Powder through our online store. If you would like to buy wholesale, please contact us through our wholesale enquiry form.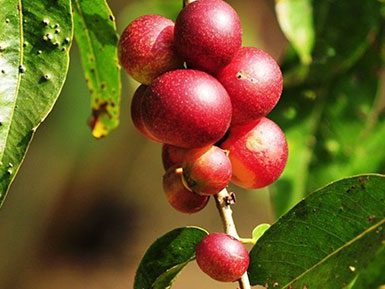 Berries grow around the Amazon and are about 3cm in diameter with a lemonish acidic flavour.
It has been used for centuries as a medicinal remedy to combat flu and to boost immune system.
| | Per Serve (2g) | Per 100g |
| --- | --- | --- |
| Energy | 31.6kJ | 1581kJ |
| Protein | 0.1g | 6.8g |
| Fat-total | 0.1g | 3.3g |
| - saturated | 0g | 0g |
| Carbohydrate | 1.6g | 80.2g |
| - sugar | 0.1g | 3g |
| Sodium | 8.2mg | 410mg |
1
What is the main benefit of Camu Camu?
2
What is the best storage condition for this product?
"Put on my smoothie to get back on track when having a cold or flu."
Packing Presentations
This product is available in the following packing presentations: