Bits of cacao beans - nature's chocolate chips
Snapshot
Organic Certified
Not Alcalinized
Not Deodorized
Gluten - Free
Vegan
Kosher Certified
GMO Free
Botanical Name - Theobroma Cacao
Superfood for ancient warriors
Aztec and Mayan warriors were given Cacao Nibs before a battle or a sacred hand-ball competition. The crushed core of the cacao bean contains a wealth of minerals and antioxidants making it the ultimate nutrition source for stamina and muscle endurance.
Mature cacao pods are removed from the tree by hand, split open and the seeds are scooped out to be fermented for a few days. The beans are dried under the sun, peeled and broken into small crunchy nibs.
Cacao is rich in essential minerals, including magnesium, calcium, iron, zinc, potassium and phosphorus. This ancient superfood is rich in antioxidants as well; Cacao beans contain 10,000 milligrams (10 grams) per 100 grams of flavonol antioxidants. This is a whopping 10% antioxidant concentration level! This makes cacao one of the richest sources of antioxidants of any food. Enjoy on their own or as a dairy-free alternative to chocolate chips.
You can buy Organic Cacao Nibs through our online store. If you would like to buy wholesale, please contact us through our wholesale enquiry form.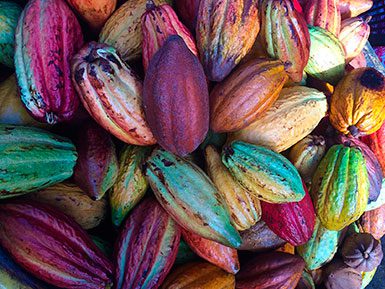 Cacao products are sourced from Peru where cacao grows natively. Several groups of organic farmers, forming a cooperative, cultivate the premium criollo Theobroma Cacao in its native environment. These farmers have received training on how to cultivate the Cacao using only organic farming techniques without the use of pesticides or chemical fertilizers.
The beans are extracted from the inside of the Cacao fruit which contains both the beans (seeds) and a white pulp. The beans are separated from the pulp and left to ferment for 6-7 days. After fermentation, the beans are dried in the sun for 3-4 days, after this, they then go through a cleaning process.
The Cacao Beans are then husked, broken into fragments and separated from impurities such as small stones and husk fragments. The Cacao Nibs have the same nutritional value as the Cacao Beans and Cacao Paste.
| | Per Serve (10g) | Per 100g |
| --- | --- | --- |
| Energy | 269kJ | 2687kJ |
| Protein | 1.4g | 14.2g |
| Fat-total | 5.3g | 53g |
| - saturated | 3.1g | 31g |
| Carbohydrate | 2.9g | 29g |
| - sugars | 0.0g | 1.5g |
| Dietary Fibre | 2.6g | 26g |
| Sodium | 2.1mg | 21mg |
| Calcium | 7.4mg | 74mg |
| Iron | 0.2mg | 2mg |
| Potassium | 48.8mg | 488mg |
1
Why are there some small shells found in my nibs?
2
Can I eat cacao nibs directly from the bag?
3
What's the best storage condition?
"Love them! Great product, so great to know they are good for you. Good value too."
"Super yummy! Lovely fresh tasting cacao nibs. I use them as my chocolate craving. I will be buying a bag in my next order."
Packing Presentations
This product is available in the following packing presentations: