Cold pressed from fresh coconut pulp
Snapshot
Organic Certified
Undeodorized
Wet - Milled
Gluten Free
Vegan
Kosher Certified
Fairly Traded
GMO Free
Botanical Name: Cocos Nucifera
Wet-milled from fresh organic coconuts
This is a premium quality unrefined, wet- milled oil, made from fresh coconuts. There is no difference between Extra Virgin and Virgin coconut oil as there is in the olive oil industry. Virgin refers to the process of extraction which in this case refers to extraction of fresh coconut, chemical free and wet milled (cold pressed).
Coconut oil has been used throughout Asia and the Pacific for thousands of years as both a food and a medicine. Even today it holds a highly respected position in the Ayurvedic medicine of India. Only recently has modern medical research confirmed the many health benefits traditionally attributed to this remarkable oil.
You can buy Organic Virgin Coconut Oil through our online store. If you would like to buy wholesale, please contact us through our wholesale enquiry form.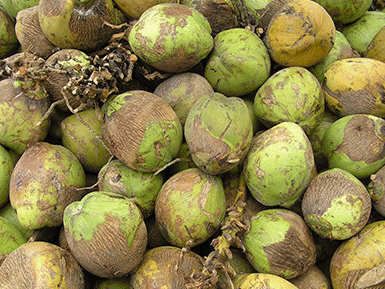 Palm trees are a sustainable crop that gives fruit all year round. Our coconut oil is sourced from Sri Lanka, where weather conditions are just perfect for coconut trees to develop their fullest nutritious potential.
As opposed to other coconut oil in the market, which is obtained from dried coconuts, our organic virgin coconut oil is extracted by pressing the fresh coconut flesh of the just-opened coconuts, yielding a fresher and creamier oil.
| | Per Serve 10g | Per 100g |
| --- | --- | --- |
| Energy | 374kJ | 3738kJ |
| Protein | 0g | 0g |
| Fat-total | 10g | 100g |
| - saturated | 9g | 89g |
| Carbohydrate | 0g | 0g |
| Sodium | 0mg | 0mg |
1
What is the fatty acid profile in Coconut Oil?
2
What is the melting temperature of Coconut Oil?
3
What is the best way to store Coconut Oil?
"Best Coconut Oil on the Market. I have tried quite a few Coconut Oils - But this is by far the best quality that I have come across. Love this product so much, & have been spreading the word."
"Divine Coconut Oil. Wonderful product, smells divine!!! I would recommend to everyone.. its good for you and it is a great ingredient in many yummy recipes."
"The Best. This is a very beautiful coconut oil with a very pleasant taste. I have recommended the oil to 4 people and they have all placed orders."
Packing Presentations
This product is available in the following packing presentations: