Dietary fibre, natural thickener and pre-biotic
Snapshot
Organic Certified
Prebiotic
Gluten free
Raw
Vegan
Kosher Certified
Natural thickener
GMO Free
Botanical Name: Agave Tequilana Weber Azul
Dietary fibre, pre-biotic and natural thickener
Inulin from Agave is increasingly used as a soluble fibre in health foods because it has unusually adaptable characteristics as a functional food.
While Agave Inulin is a versatile food ingredient, it also has health benefits: Agave Inulin increases calcium absorption, while promoting the growth of beneficial intestinal bacteria, which help improve digestion. Nutritionally, it is considered a form of soluble fibre and is categorized as a prebiotic.
Studies have shown prebiotic qualities of this natural product as well as efficient stimulation of growth of bifid bacteria and Lactobacilli in the digestive process. This agave fructan is used as a food ingredient and/or health-promoting ingredient. It can be used as a natural thickener and texturiser. Ideal for food products such as jam, cookies, bread, milk, yogurt and cheese.
You can buy Organic Agave Inulin Powder through our online store. If you would like to buy wholesale, please contact us through our wholesale enquiry form.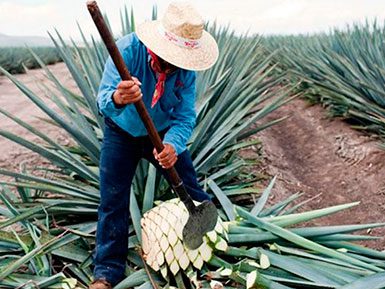 The agave plant is grown for a period of 4 to 8 years until it becomes mature. At the time of the harvest, the "Jimador" cuts-off the leaves of the Agave, leaving only the core or "pina". The core is crushed to obtain the sap of the plant which is a sweet juice. This juice, which is rich in inulin, is filtered and then spray-dried to produce a fine white powder.
| | Per Serve (28g) | Per 100g |
| --- | --- | --- |
| Energy | 462kJ | 1650kJ |
| Protein | 0g | 0g |
| Fat-total | 0g | 0g |
| - saturated | 0g | 0g |
| Carbohydrate | 27g | 96.4g |
| - sugars | 2g | 7.1g |
| Dietary Fibre | 25g | 89.3g |
| Sodium | 35mg | 125mg |
1 If I want to take inulin as a pre-biotic, how often and how should I have it?
2 Can I use inulin for baking?
"It is wonderful to at last find a product that works. I am very happy with Maretai's Organic Agave Inulin Prebiotic / Dietary Fibre powder. I have tried a few other brands but this one works. I followed the instructions to a 't' and results came straight away. Great work Maretai!!"
"Maretai - Raw Agave Inulin Powder - Certified Organic is the best pre biotic I have found, it's certainly works for me."
Packing Presentations
This product is available in the following packing presentations: