Natural Low Glycemic Index Sweetener
Snapshot
Organic Certified
Low GI
Sugar Cane - Free
Vegan
Kosher Certified
Halal
GMO Free
Botanical Name: Agave Tequilana Weber Azul
A great natural alternative sweetener
Agave Syrup or Agave Nectar, as it is also known, is obtained from the sap found in the hearts of the agave or maguey plant. One of the unique characteristics of this natural sweetener is that it is slowly metabolized. It has a very low Glycemic Index (GI) compared to sugar, honey, maple syrup or other sweeteners.
Light Agave Syrup has a neutral sweetness that is ideal for dishes/beverages that require sweetening with a subtle agave flavour. Dark Agave Syrup is rich in minerals, having gone through less filtering it conserves the flavour of the agave plant. This organic natural syrup alternative sweetener is ideal for those who are looking for new flavours, unique recipes or simply looking to substitute cane sugar.
Our Organic Agave (also known as Agave Nectar) is produced in Jalisco, Mexico agave plant grows natively.
You can buy Organic Agave Syrup through our online store. If you would like to buy wholesale, please contact us through our wholesale enquiry form.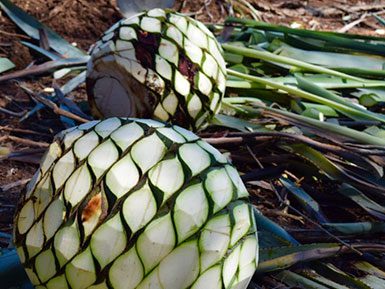 The agave plant is grown for a period of 4 to 8 years until it becomes mature. At the time of the harvest, the "Jimador" cuts-off the leaves of the Agave, leaving only the core or "pina". The core is crushed to obtain the sap of the plant which is a sweet juice. The juice then goes through a process of filtration and evaporation to obtain the final syrup. No chemicals are added during this process.
| | Per Serve (21g) | Per 100g |
| --- | --- | --- |
| Energy | 267kJ | 1272kJ |
| Protein | 0g | 0g |
| Fat-total | 0g | 0g |
| - saturated | 0g | 0g |
| Carbohydrate | 16g | 76g |
| - sugars | 16g | 76g |
| Sodium | 0mg | 0mg |
1
What is the difference between dark and light agave syrup?
2
Is Agave Syrup the same as Agave Nectar?
3
What are the best storage conditions for this product?
"Light Agave is great to replace sugar in anything. The taste is subtle and not too sweet - highly recommended!."
"This stuff is GOLD!!! I had never tried it before but I was in love at the first taste! I will definitely be purchasing a lot more!!! its great tasting and good for you!!"
"I cook for a diabetic husband and as weight watcher myself I find the dark agave with its low GI a perfect substitute when I am making special treats for both of us. As I have adapted quite a number of my baking recipes to use agave, its the first thing I reach for when the mixing bowls come out. The flavour blends well and does not over power. I even use it in bread making."