What is Cacao butter? 
Cacao Butter is a type of fat that comes from the cacao beans. Is one of the most stable fats known, since it contains natural antioxidants. Cacao Butter also has properties of nourishing skin and helps to reduce the burn marks, as well as decrease the visibility of scars. 
Cacao Butter is one of the most important ingredients of chocolate, and many other sweets and desserts. It is also used in skin creams and various health products. 
The process to make Cacao Butter is to remove the pulp from the fruit to obtain the cacao beans. The Cacao beans are fermented for 7 days, then washed and sun-dried for 4 days.  Once dried, the beans are pitted to obtain the cacao nibs. Cacao nibs are ground and then pressed to separate the Cacao Butter. This method of extraction does not include any solvents, and this leaves the unrefined butter with their characteristic smell and color. 
Cacao Butter is a bit darker than Shea Butter, and its natural scent is very strong and similar to chocolate. 
You can buy our Cacao Butter here: https://store.maretai.com.au/cacao-butter-raw-organic/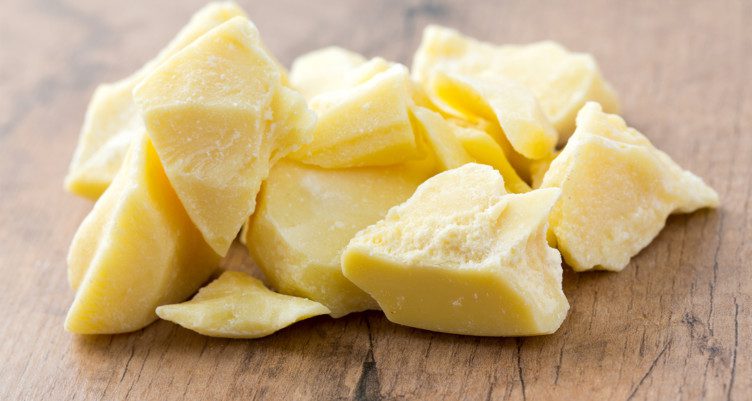 What is Shea Butter?
Shea Butter is a superfood that comes from the seeds of the fruit of the Shea tree. Most of it comes from West Africa, the native region of the tree. 
Shea butter has a high concentration of vitamins and fatty acids therefore, it is a great ingredient to moisturise, soften and condition the skin. 
The process to make Shea Butter is to boil the Shea nuts for several hours, then sun dried before grinding to a paste. The fat is separated from the paste, then churned to turn it into butter. 
Shea Butter has an ivory, creamy colour, and the shade can change. The natural scent of Shea-Butter is nutty and smokey. 
The most common use of Shea Butter is externally only, since there are many studies that say ingesting it could be bad for your health, also it  interferes with the digestion of other proteins.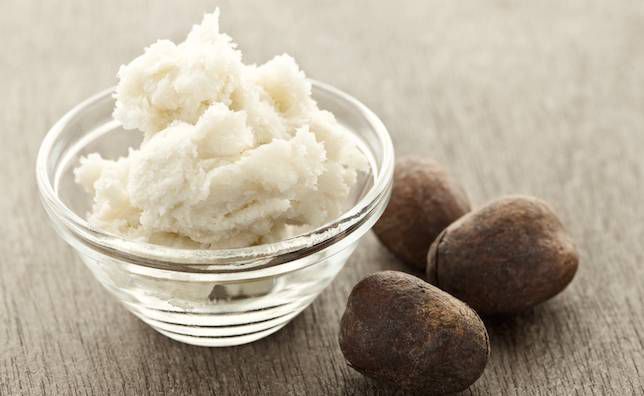 Cacao Butter VS Shea Butter
The first big difference between Raw Cacao Butter and Raw Shea Butter is their source. Cacao is a bean while Shea is a nut. 
Although they have very similar uses, their properties are slightly different. As well as the sources of origin of each one. The Cacao tree or Theobroma cacao, is native to the tropical regions of
South and Central America. On the other hand the Shea tree or Vitellaria Paradoxa grows only in Africa. 
In addition to the uses of Cacao Butter for sweets and desserts, it is also widely used to make creams and cosmetics that help the skin. 
Cacao Butter contains high levels of fatty acids, so it is very required to hydrate and heal the skin. These fats also help the skin to maintain its moisture.
Cacao Butter also has many natural components, which helps improve blood circulation, and slow the skin aging by protecting it against the damage caused by the sun's UV rays. 
On the other hand, Shea-Butter is mostly used as a remedy for dry skin and to help protect the skin's  natural oils. This is because it has a high concentration of natural vitamins and fatty acids, which makes it incredibly hydrating and moisturising. They are both great for skin care
Also, Shea-Butter has anti-inflammatory properties,  in addition to its natural components it has a compound, Lupeol Cinnamate, that reduces the inflammation on the skin.
Is Cacao Butter Dairy free and Vegan? 
Cacao Butter is vegan and dairy-free. Since it comes from the Cacao beans, it is a completely natural and vegetarian fat. It does not contain any other type of ingredient.
If you enjoyed this Cacao Butter vs Shea Butter Article share it with your friends!
Click here for more Cacao Butter Info – https://maretai.com.au/products/cacao-butter/
Reference Links
Liveaboutdotcom – Shea Butter vs. Cocoa Butter: Which One Is Better for Your Skin?
Better Shea butter – The Difference Between Shea Butter & Cocoa Butter
Healthline – Everything You Need to Know About Cocoa Butter
Healthline – What is Shea Butter? 
LifeScience – The truth about Cocoa Butter
The Spruce Eats – Cocoa Butter
Medical News Today – What are the benefits of cocoa butter?
The Spruce Eats – Is Cocoa Butter Vegan and Dairy-Free?